The Tennessee Engineering Foundation (TEF) Luncheon keynote speaker will be LT General Arnold W. Bunch Jr. on Thursday, September 15 at the Music City Center in Nashville, TN.
Lt. General Bunch is the Military Deputy, Office of the Assistant Secretary of the Air Force, for Acquisition, the Pentagon and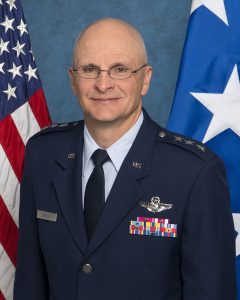 Washington D.C. He is responsible for research and development, test, production, and modernization of Air Force programs worth more than $32 billion annually.  General Bunch was commissioned in 1984 as a graduate of the U.S. Air Force Academy. He conducted developmental testing in the B-2 and B-52 and served as an instructor in each. Additionally, he holds a Master of Science degree in national security strategy from National War College, Fort Lesley J. McNair.
To Sponsor and/or purchase luncheon tables or tickets by mail, download the TEF Luncheon Brochure or purchase tickets online,  just click here!
The TEF event raises money and supports the State MATHCOUNTS competition, scholarships for engineering students, and other STEM-related activities.
The annual luncheon is the primary fundraiser for the Tennessee Engineering Foundation, which was created in 1986 to advance and support the engineering profession in Tennessee.  TEF raises funds for scholarships and K-12 STEM education programs such as MATHCOUNTS and Lego League.
The luncheon is one of the highlights of the combined TN Engineers' Conference of the American Council of Engineering Companies of Tennessee (ACEC), the Tennessee Society of Professional Engineers (TSPE), TN Structural Engineers Association (TNSEA), and the Tennessee Section of the American Society of Civil Engineers (ASCE).   The annual conference will be at the Music City Center in Nashville, September 14 – September 16. More than 300 professional engineers and their guests are expected to attend the conference.