Happy New Year….in July!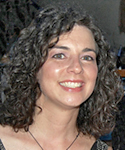 President's Message
Amy Spann, PE, President of ACEC of Tennessee
2016-2017
It's the beginning of another ACEC year and while we transition officers and committee members, we are certainly continuing full throttle with the significant headway we made this past year of raising our visibility with government entities, legislative representatives, and engineering companies.  This year we enacted our mission to advance the business environment of the engineering industry like never before due to the tireless efforts of John Kenny, Kasey Anderson, and many other ACEC members.  John and Kasey met with multiple state agencies, senators, and representatives to make our mission loud and clear and communicate the issues that are important to ACEC members and the engineering community.  We've developed great momentum and will continue to build on this foundation and fortify our consolidated voice, which is the strength of ACEC.
I am excited for an abundance of new opportunities this year and how well we are positioned to make our voice effective in achieving our goals.  One way to do that is to encourage everyone to vote and be active in the upcoming elections, beginning with the state primaries on August 4th.  Get to know your local representatives and senators, help them understand our issues, and be active in your community so that as we continually build our foundation and become a trusted partner in making key decisions.  Also, be involved with ACEC and help expand our visibility in the engineering community.  Just as in your businesses, ACEC needs "subject matter experts" who can be called on when needed to support efforts and provide valuable insight.  For those who continue to strengthen ACEC, I want to thank you for your time and support.  Each of you have played an important role in reinforcing this organization and realizing our collective goals.   For those that will be involved in the near future, we actively solicit your engagement as we need involvement from all parts of the state and all disciplines.
Lastly, I want to promote the Annual Tennessee Engineers' Conference, September 15-16, 2016.  We are thrilled that the meeting will be held at the Music City Center in Nashville.  It's a new location and we are also pleased to welcome members of the Tennessee Structural Engineers Association to the group.  This will be a great opportunity to interact with colleagues and continue to support the engineering community.  Hope to see you all there!